Securing a Legal Internship
Clerkship season is well and truly upon us.
It's tricky being a pre-penultimate student wanting to gain legal experience, especially if you have friends in the latter years of their degree applying for clerkships or graduate positions.
You may feel like there are no opportunities out there for you and that no one is willing to take on someone with no 'real' legal understanding. Oh how wrong that is.
One of the best things you can do in the early years of your degree is to secure an internship. It will help you in understanding the practical aspects of the law as well as giving you a great opportunity 'try before you buy', in a number of different practice areas. Interning can help you to define your career goals and will look great on your resume when you're in your penultimate year applying for clerkship positions.
Managing your Timetable
source // giphy
To do an internship, you don't need to have half of your week blocked out. When organising your timetable for the semester try to leave one day free each week. If you get accepted to do some interning, you'll be able to do it on the day you so kindly prepared earlier for yourself. This will give you time to focus on your studies in addition to the practical element of interning. Think of it as an extension of your degree - you will be learning so much on the job!
Defining your Targets
source // giphy
While it might be unrealistic asking mid to top tier firms to take you on as an intern (that's not to stop you from trying though!) there are so many incredible boutique firms who can offer you a wealth of knowledge. The thing to do when looking for a firm to intern at is to write down a list of skills you want to learn, the type of law you want to get into and the values you hold as a professional. From this, you can jump onto Google or LinkedIn and find local firms who tick the boxes on you list. These are the places you want to apply to!
Writing Resumes & Cover Letters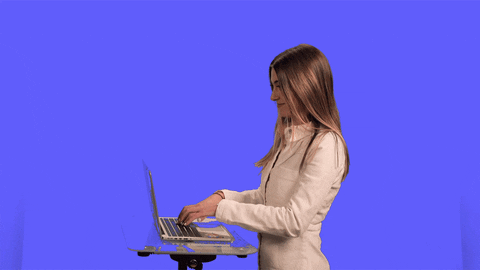 source // giphy
You're going to write your resume and cover letter almost exactly the same way you would as if you were applying for a clerkship. You can see out tips for mastering applications applications here.
What you need to indicate in the first line of your cover letter is that you 'write seeking the opportunity to complete a voluntary internship', and why. Go back to the list you wrote and consider what doing an internship is going to help you with in the early stages of your career. Let your potential employer know why you want to be interning with them.
How many firms do I apply to?
source // giphy
Good question! It really depends how keen you are! Don't feel bad if firms don't get back to you. It's possible you might have to apply to twenty different placed before one even gets back to you. At the end of the day, it will be worth it!
Enjoyed this post? Sign up to the Survive Law weekly newsletter for more.